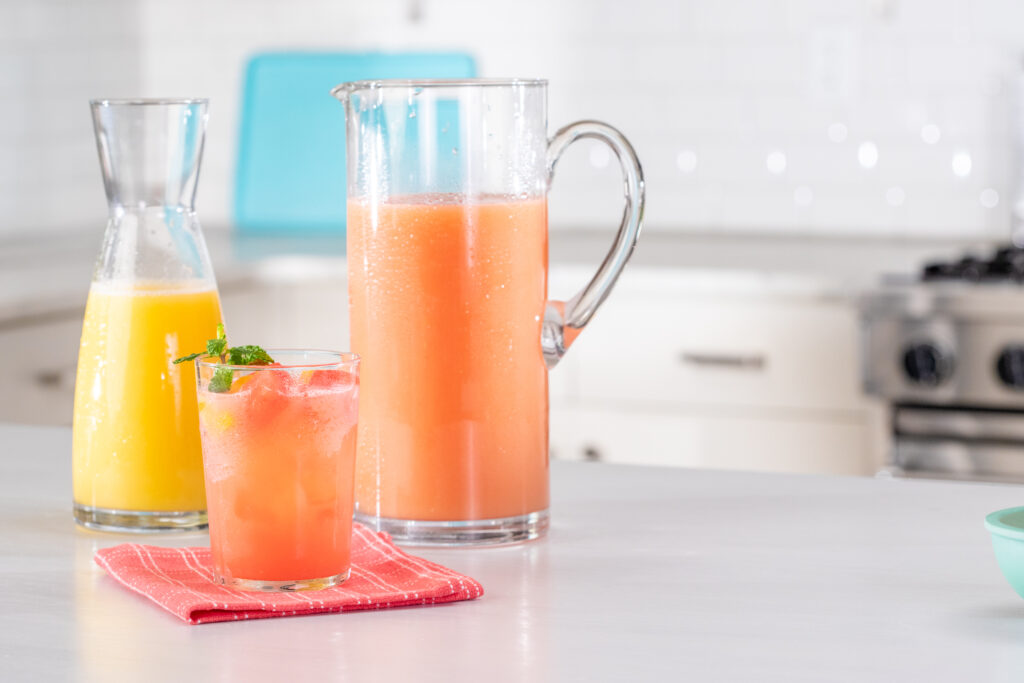 Florida Citrus Watermelon'ade
Ingredients
2 cups (240 ml) Florida Orange Juice

1 cup (120 ml) Florida Grapefruit Juice

2 cups Florida Oranges, cut into 1-inch pieces, peeled

Florida Orange Slices, for garnish

2 cups sugar

1 cup hot water

6 cups watermelon, seeded, no rind, cut into 1-inch pieces, divided

¾ cup (180 ml) lemon juice

¾ cup (180 ml) lime juice

½ cup mint leaves

Watermelon chunks, for garnish
Preparation
Florida Citrus Watermelon'ade
1. Combine sugar and hot water in small saucepan over low heat; heat until sugar is dissolved. Refrigerate until chilled.
2. Purée 4 cups watermelon in blender until smooth.
3. Place watermelon juice, chilled sugar syrup, Florida Orange Juice, Florida Grapefruit Juice, lemon juice and lime juice in large pitcher; stir to combine.
4. Add 2 cups watermelon pieces, Florida Orange Pieces and mint leaves; refrigerate for 2 to 3 hours until well chilled.
5. Serve over ice in tall glasses. Garnish with Florida Orange Slices and watermelon chunks, if desired.