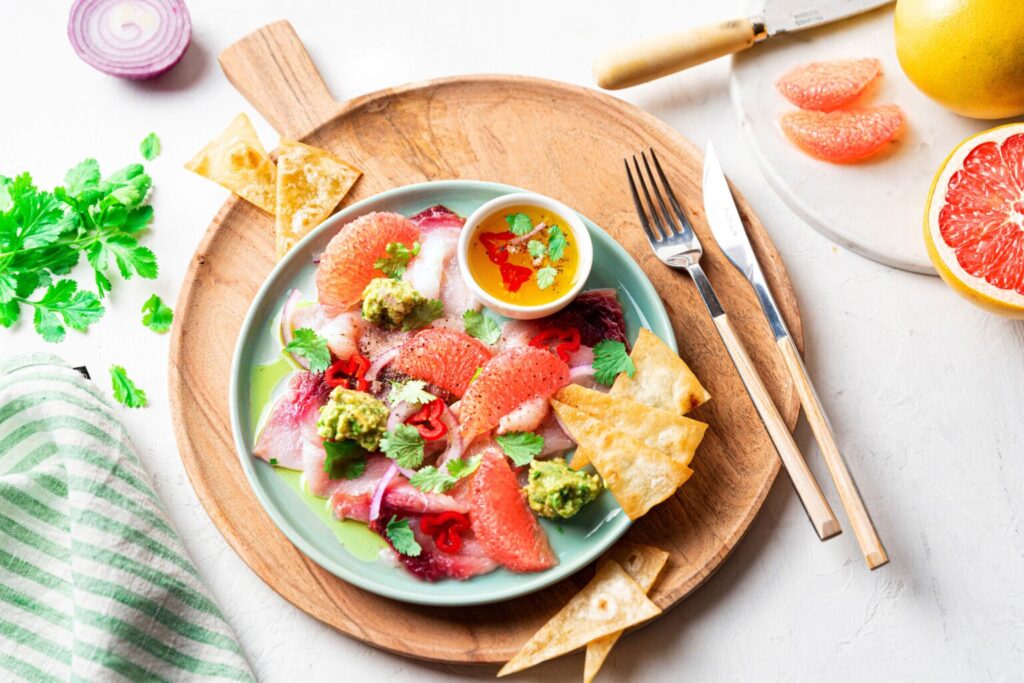 Swordfish and Florida Grapefruit Ceviche
Ceviche is a classic Latin American dish that brings out citrus flavours. Try this unique ceviche with fresh Florida Grapefruit segments!
Ingredients
1 Florida Grapefruit
400g of swordfish (fresh)
1 avocado
1/2 red onion
1 pepper
10 drops of chili oil
1 small bunch of fresh cilantro
2 fresh flour tortillas
Oil (canola, sunflower or other, not olive oil)
2 Thai chili peppers
Olive oil
Salt and pepper
Preparation
| Prep Time | Cook Time | Total Time |
| --- | --- | --- |
| 25 minutes | 3 minutes | 28 minutes |
For Ceviche
Start by cutting the swordfish into very thin slices and place the slices in a deep serving dish.
Peel and finely slice ¼ of the red onion, add to the dish.
Cut chili pepper into small cubes, add to the dish.
Cut the Florida Grapefruit into supremes and collect the juice from cutting.
Pour some collected juice over the fish. Add 4 tablespoons of olive oil. Add salt and pepper then cover with a saran wrap and place in the fridge for 10 minutes.
For Guacamole
Cut and remove pit and the peel of the avocado. Mash the avocado with the rest of the Florida Grapefruit Juice.
Chop half the bunch of cilantro.
Add cilantro, the chili oil to the avocado, season with salt and pepper.
Chop the other part of the red onion, add to guacamole. Adjust seasoning to taste as needed.
Mash together until well combined.
For Chips
In a frying pan, heat a bit of sunflower oil. Cut the tortillas into small pieces and brown them. Remove them from the pan as soon as they are brown and place them on non-stick absorbent paper.
Arrange the fish on the plates and add the fresh coriander.
Divide the marinade on each plate, then the guacamole. Finish with the Florida Grapefruit supremes and the fried tortillas.
Serve and enjoy!