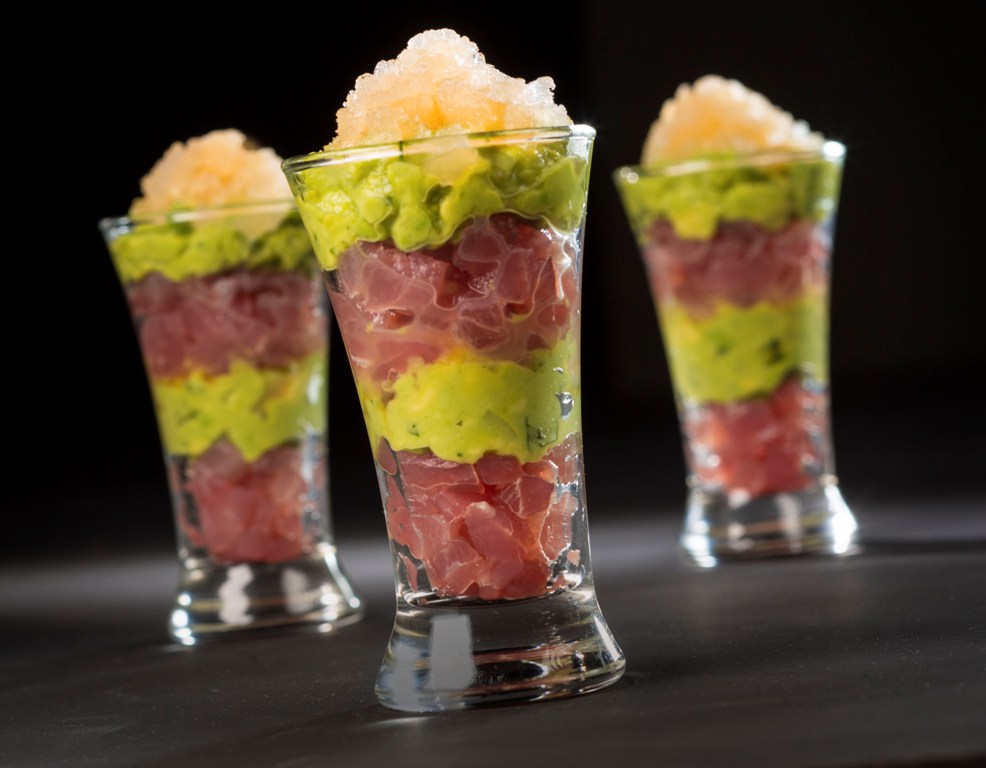 Mini Tuna Avocado Parfait Topped With Florida Grapefruit Ice
Ingredients
125 ml Florida grapefruit juice

1 avocado

2 tablespoons Florida orange juice

1 tablespoon Spanish onion, minced

1 tablespoon coriander, minced

1 teaspoon sweet soy sauce

1 teaspoon sesame oil

170 g Ahi tuna, minced
Preparation
Mini Tuna Avocado Parfait Topped With Florida Grapefruit Ice
Pour grapefruit juice in thin layer no more than 1-centimetre thick in freezer-safe pan; place in freezer.

When grapefruit juice is frozen, mash avocado.Stir in orange juice, onion, coriander, soy sauce and sesame oil; set aside.

Divide one-half tuna among 6 (60 ml) serving glasses.Divide avocado mixture in half; layer one-half avocado mixture on top of tuna in glasses.

Layer remaining tuna then avocado mixture in glasses, dividing evenly.Chill until ready to serve.

Remove grapefruit juice from freezer; scrape a fork over the top to create shaved grapefruit ice.Place one heaped tablespoon of grapefruit ice in top of each glass; serve immediately.
*Consuming raw or undercooked meats, poultry, seafood, shellfish or eggs may increase your risk of foodborne illness, especially if you have certain medical conditions.