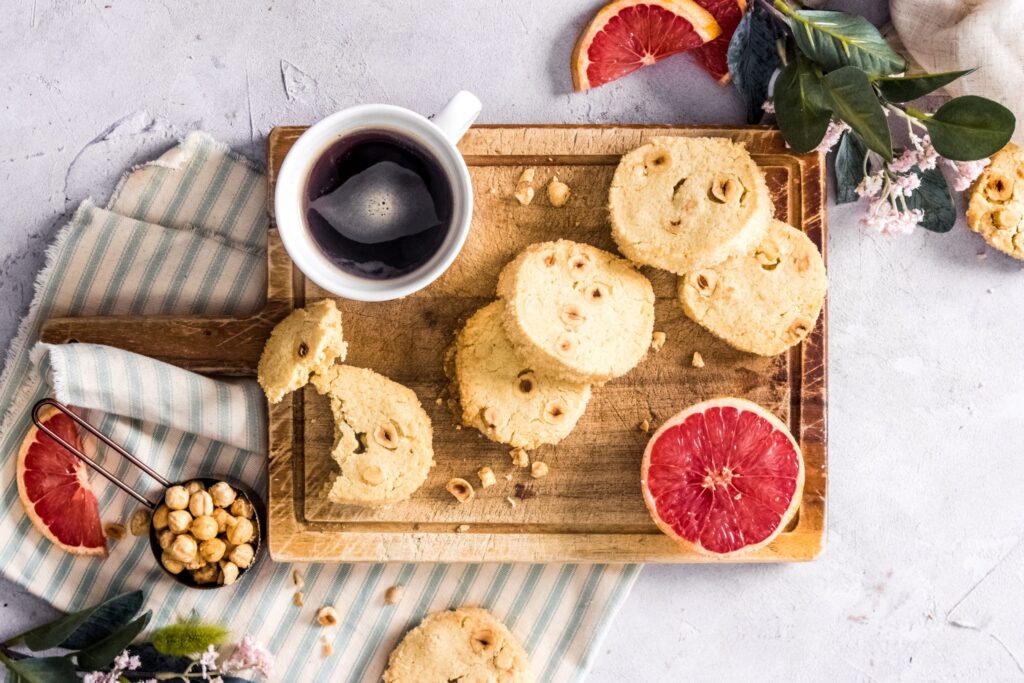 Florida Grapefruit and Hazelnut Shortbreads
These lightly sweet cookies have a surprise crunch and are a great idea for gift giving whether its birthday, house-warming gifts or the holidays.
Ingredients
3 Florida Grapefruit
250g Softened butter
125g Golden caster sugar
1 Free range egg yolk
1 tbsp Vanilla extract
375g flour
125g Roasted hazelnuts
80g Extra golden caster sugar
Preparation
1. Place the softened butter into a mixing bowl and add the sugar. Mix together until light and fluffy, then add the egg yolk and vanilla. Continue to mix until fully incorporated.
2. Add the zest from the three Florida Grapefruit as well as the flour and mix to a crumbly dough.
3. Transfer the mixture onto a clean work top and add the roasted hazelnuts.
4. Roll the dough into a log and set in the fridge to firm up for 30 minutes.
5. Pour the remaining sugar onto a plate, then squeeze or brush the Florida Grapefruit Juice over the shortbread and roll in the sugar.
6. Return the shortbread to the fridge and chill for 1 hour.
7. Once firmed up cut into 2cm slices and place on a baking tray. Bake in a pre heated oven 160c 12-14 minutes.