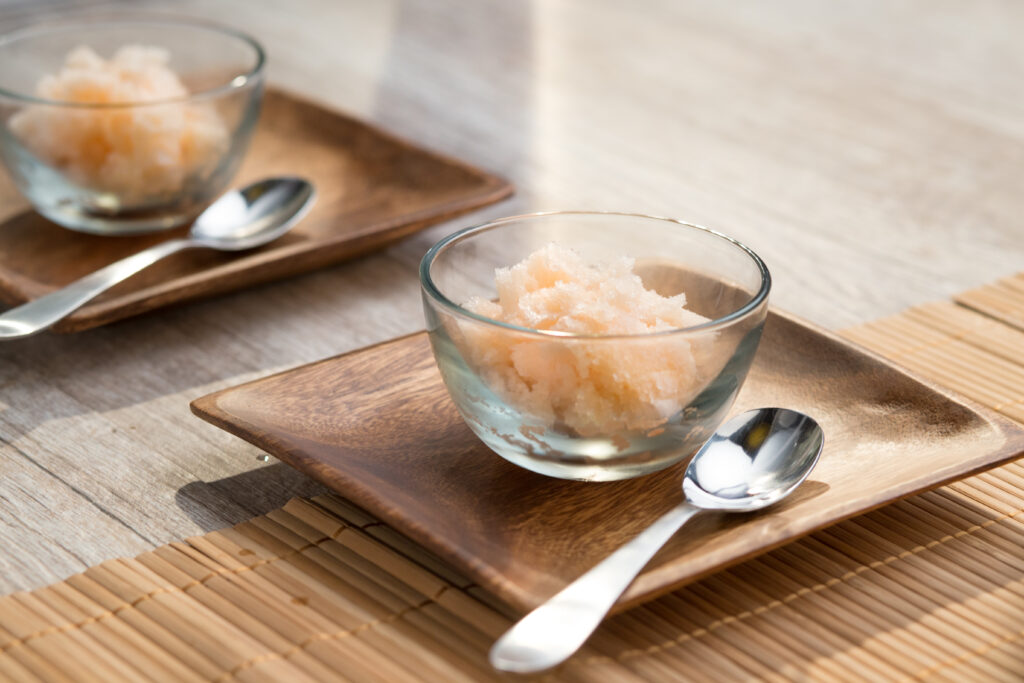 Red Grapefruit Sorbet And Campari With Mango Passion Fruit And Sweet Paprika
Ingredients
375 ml fresh squeezed and sieved red Florida grapefruit juice

200 g sugar

375 ml of water

115 ml Campari

1 egg white

Icing machine or ice pan
1 large red paprika

Few drops of olive oil

Juice of one Florida orange, sieved

125 ml white port

Marrow of 1 vanilla pod

Half vanilla pod
2 pieces of passion fruit

1 ripe mango
Preparation
Red Grapefruit Sorbet And Campari With Mango Passion Fruit And Sweet Paprika
To prepare the sorbet, put water and sugar in a narrow high pan.Bring the mixture to boiling level and leave it on moderate heat until all sugar has melted.Let cool to room temperature.

Take 450 grams of the sugar syrup, add grapefruit juice and Campari and stir it up well.Check the sugar density at 18 degrees Celsius and if necessary, add cold water until the right temperature is reached.Freeze the mixture in an ice machine.Now add egg white foam to the sorbet when slightly frozen and let the machine mix until the sorbet has the desired sturdiness.In an ungreased bowl, beat the egg white with the sugar to a stiff foam.

To prepare the paprika, preheat the oven to 180 degrees Celsius.Wrap the paprika in double aluminium foil and 'roast' in the oven for 35 minutes.Let cool for 15 minutes while still in the foil.Pick the paprika out of aluminium foil, jab a hole at the bottom and release the moisture.Remove the stalk, seeds and remaining membranes.Now, using a knife, peel the skin of the paprika and cut the fruit in equal strips.Preheat a Teflon pan with a few drops of olive oil, put the paprika slices in a pan and let all liquid evaporate.Add white port, cinnamon, vanilla and orange juice and keep on low heat for 2-3 minutes.

To finish, peel the mango.Cut the mango in half as close to the seed as possible.Cut the pieces in narrow slices.The leftover mango can be put in the blender and will be used for the sauce.Now, divide the passion fruit in half and take out the seeds.Put the mango, passion fruit and paprika onto the plates and add a scoop of grapefruit sorbet ice cream.