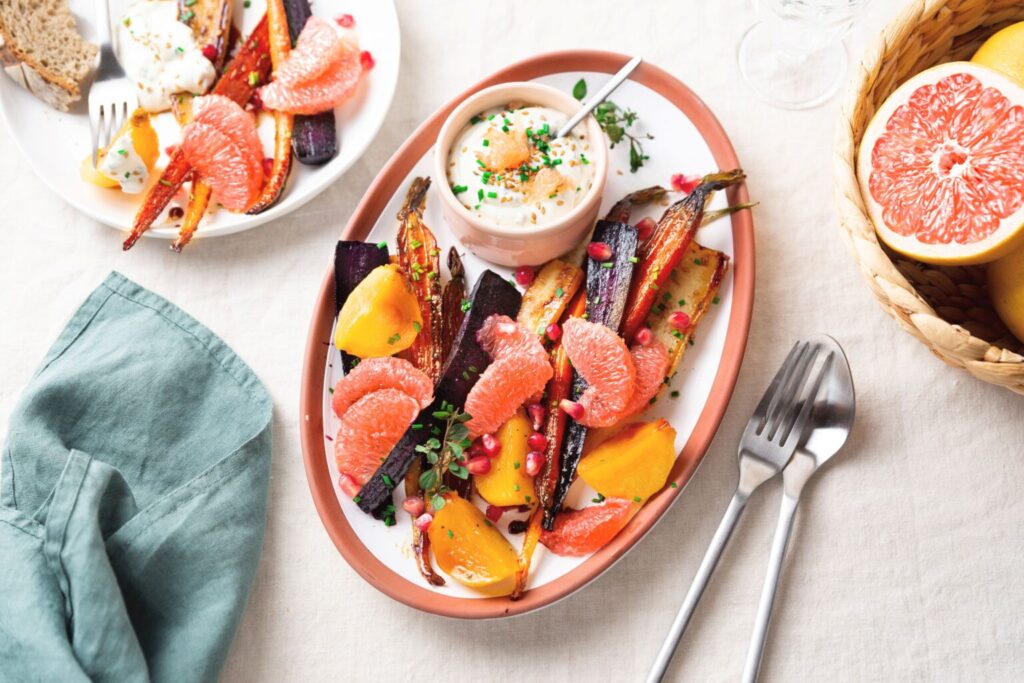 Florida Grapefruit and Glazed Vegetables
Take advantage of root vegetable season with this colourful and flavourful veggie dish topped with citrus notes of Florida Grapefruit!
Ingredients
2 Florida Grapefruits
4 carrots tops
4 purple carrots
4 parsnips
1 golden ball turnip
1 small pomegranate
200g of goat cheese
1 tablespoon of heavy cream
1 small bunch of chives
1 teaspoon of sesame seeds
Olive oil (for drizzling)
2 tablespoons of honey
Salt and pepper
Preparation
| Prep Time | Cook Time | Total Time |
| --- | --- | --- |
| 30 minutes | 20 minutes | 50 minutes |
Start by peeling all the vegetables. Cut the carrots and parsnips in half lengthwise. Cut the turnip into cubes of 4.
Squeeze the juice of a Florida Grapefruit. Cut the second Florida Grapefruit into supremes and collect its juice.
Heat a large pan with a generous drizzle of olive oil. Arrange all the vegetables cut side down in the pan.
Add the Florida Grapefruit juice until it covers half of the vegetables, then the honey and a cup of water. Season with salt and pepper.
Cover the pan while allowing some steam to escape. Simmer until the liquid has evaporated. Cook until the vegetables will be cooked and tender.
Meanwhile, whip together the goat cheese with the heavy cream together in a mixer. Season with salt and pepper and a drizzle of olive oil. Chop the bunch of chives.
Put half of the chives in the goat cheese mixture and keep the other half for serving.
Once the vegetables are cooked, arrange them on the serving dish. Add the Florida Grapefruit segments on top, pomegranate seeds and chives, and a drizzle of olive oil.
Serve hot with the goat cream and enjoy!