Guide the Eating a Florida Grapefruit
Everyone has their own strategy to freeing the juicy fruit that rests inside the peel of a Florida Grapefruit.
Whether you prefer tools like the grapefruit knife, or peel it with your hands, there is no 'right' way to get inside this juicy fruit.
Before You Start
Did you know there are two sides to a grapefruit?
When you hold your grapefruit, there are 2 sides of it that are naturally a bit flatter. There is a small dot or circle on one end – this is where the stem and flower connected to the grapefruit. Do not cut through these flatter sides! Consider them the top and bottom of the grapefruit. The segments run from top to bottom, so keep that in mind while cutting.
Want to perfect your approach? Here are some of the most popular ways to free the fruit.
1. Segmenting (also known as Supreming)
Step 1. Cut off both ends of the grapefruit.
Step 2. Slice off peel from top to bottom removing all the white pith.
Step 3. Cut down along one segment lengthwise, repeat on the other side of the segment.
Step 4. Gently loosen the segment and lift out. Repeat with remaining segments.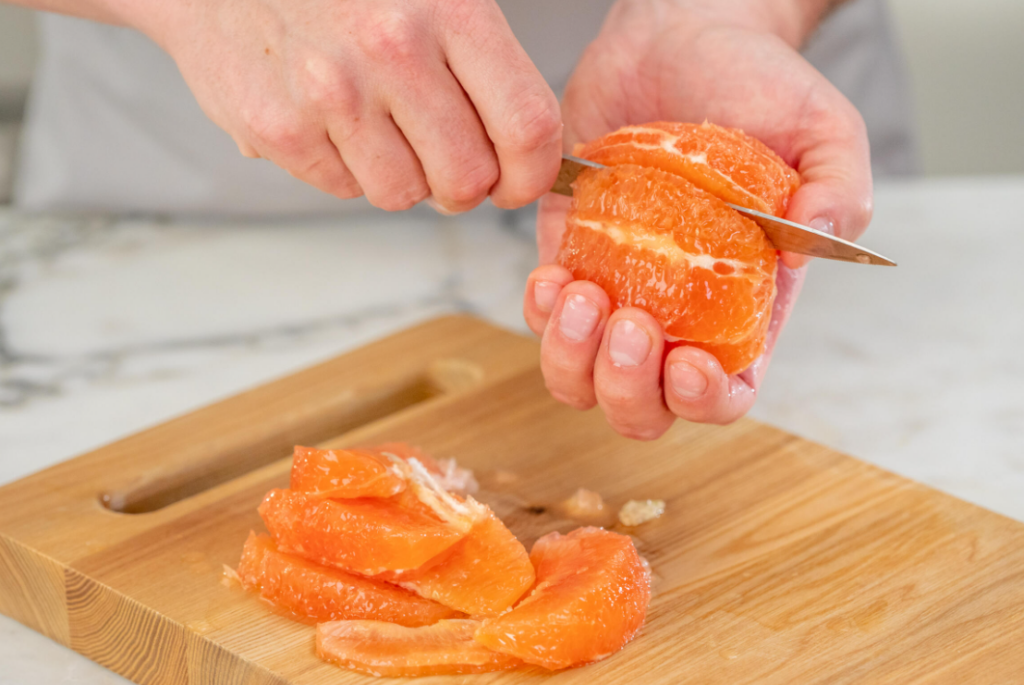 ---
2. Slicing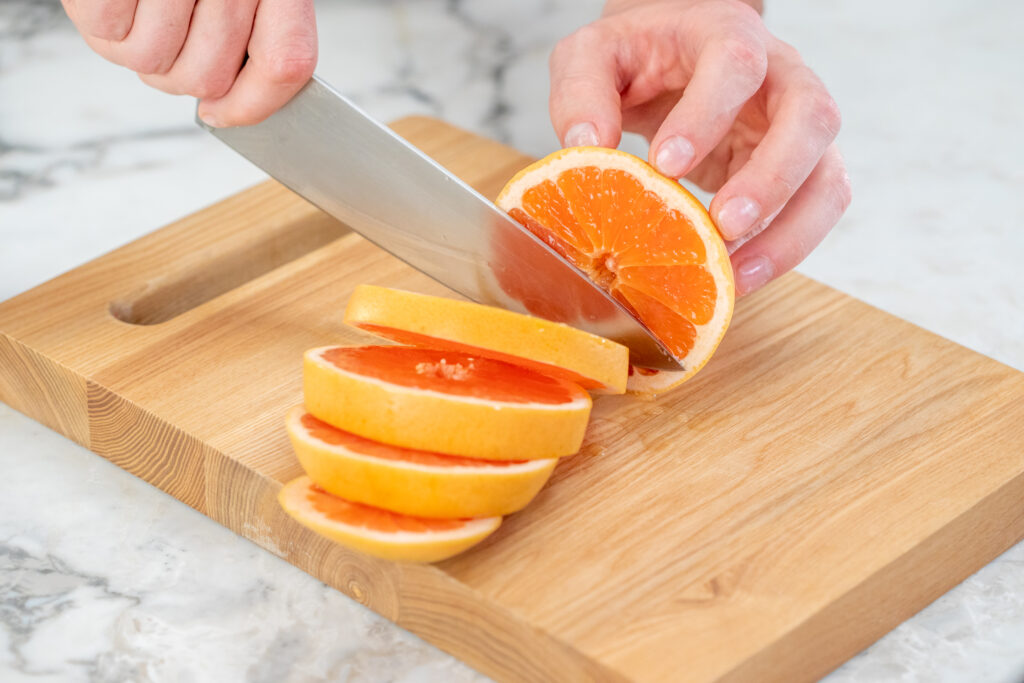 Hold fruit so that the two ends are facing out on the cutting board. Start slicing from one end to the other to create perfect citrus wheels. To eat, simply break the rind and unroll the wheel.
---
3. Smiles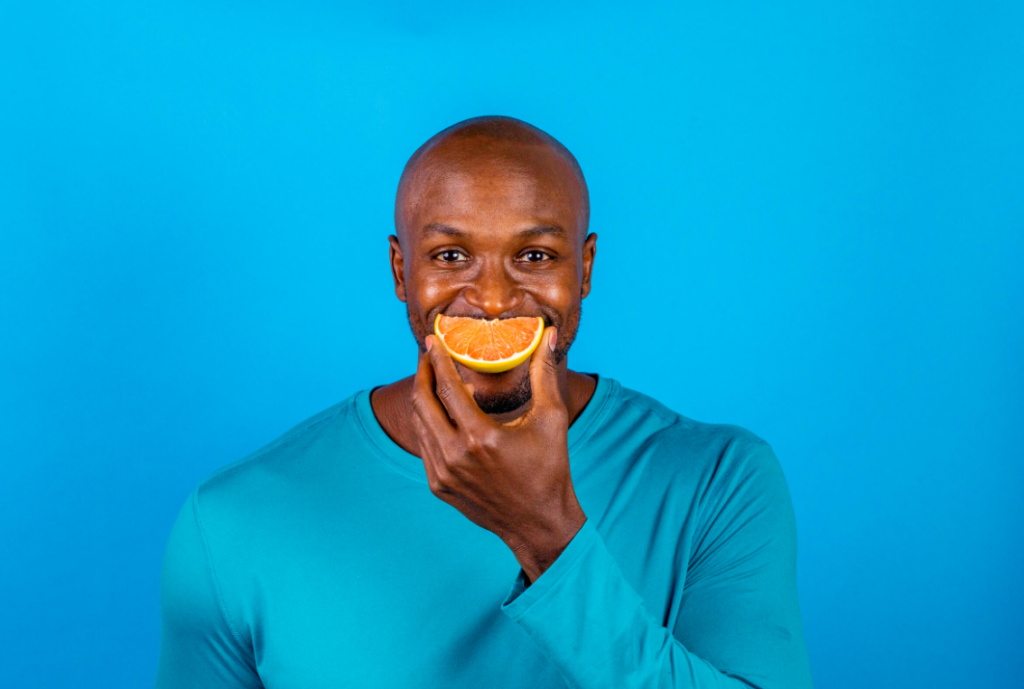 Slice fruit in half as shown (do not cut through stem end). Hold one half and slice diagonally to get three to four "smiles." Repeat with other half as shown. It's so easy!
Much like the name of this cut, did you know Florida Grapefruit can help support your very own smile?
---
4. Cut in Half (and use a Grapefruit Knife or Spoon)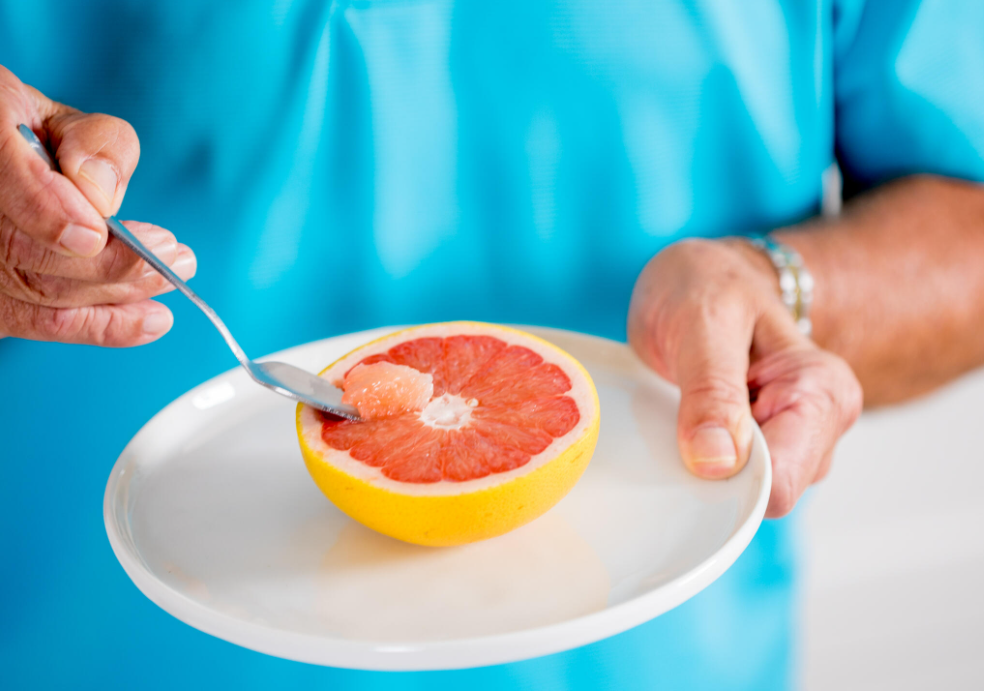 Cut the grapefruit in half, ensure the stem ends are on each side of the cut. Then scoop out the segments using a grapefruit knife or spoon. Grapefruit segments run top to bottom so making sure to cut it in the right direction will allow you to use the grapefruit knife or grapefruit spoon to release the fruit.
---
5. Peel it Like an Orange
Using a knife, spoon or your hand, free up a piece of the rind, and start peeling back the rind and pith until you free the juicy flesh.
One way to make this process easier is to score the peel using a knife to cut around it from top to bottom, one or more times. This helps to make peeling off the rind a little bit easier.
---
6. Juice It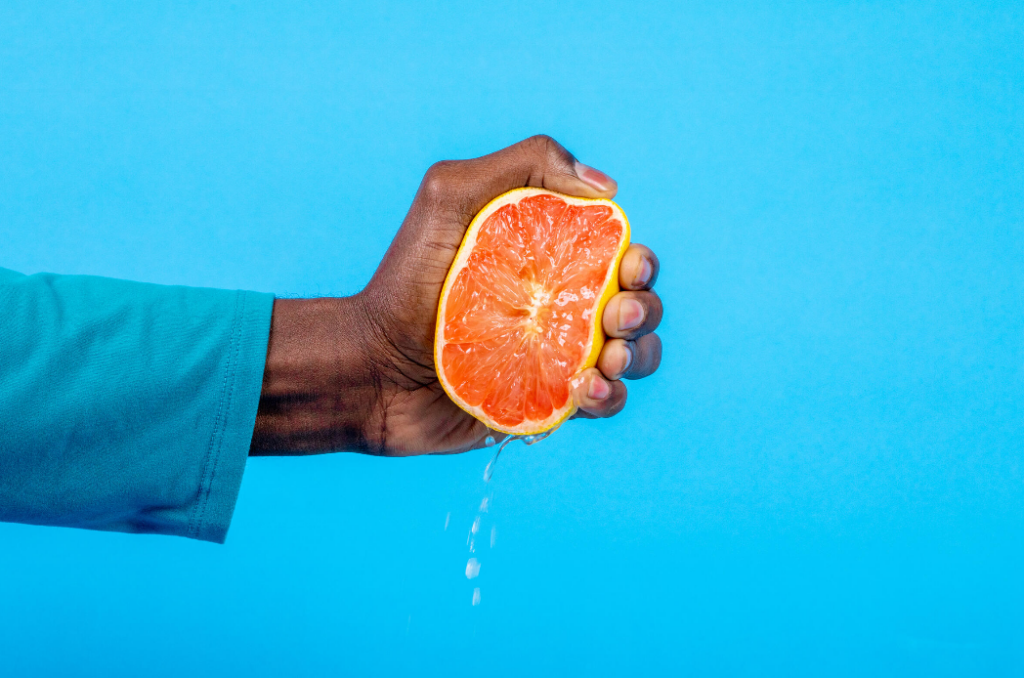 Slice grapefruit in half, and use a juicer to press the juice out of the flesh. Most Florida Grapefruit are grown in sandy soil in the Indian River region of Florida. This 320km span of land produces some of the juiciest fruit in the world. Making it one of the best grapefruit products to juice.
The only way to know which method you like best, is to try them all!
Need a few ideas of what to do with your Florida Grapefruit now that you've cut it? Here are some of our favourite recipes:
Grapefruit and Orange Salad with Raspberry Vinaigrette
Sweet And Sour Chicken Meatballs With Grapefruit
Florida Grapefruit Ahi Tuna Poke Bowl
No matter how you peel, cut, or eat your Florida Grapefruit, learn how each bite of the fruit can help support your health below!