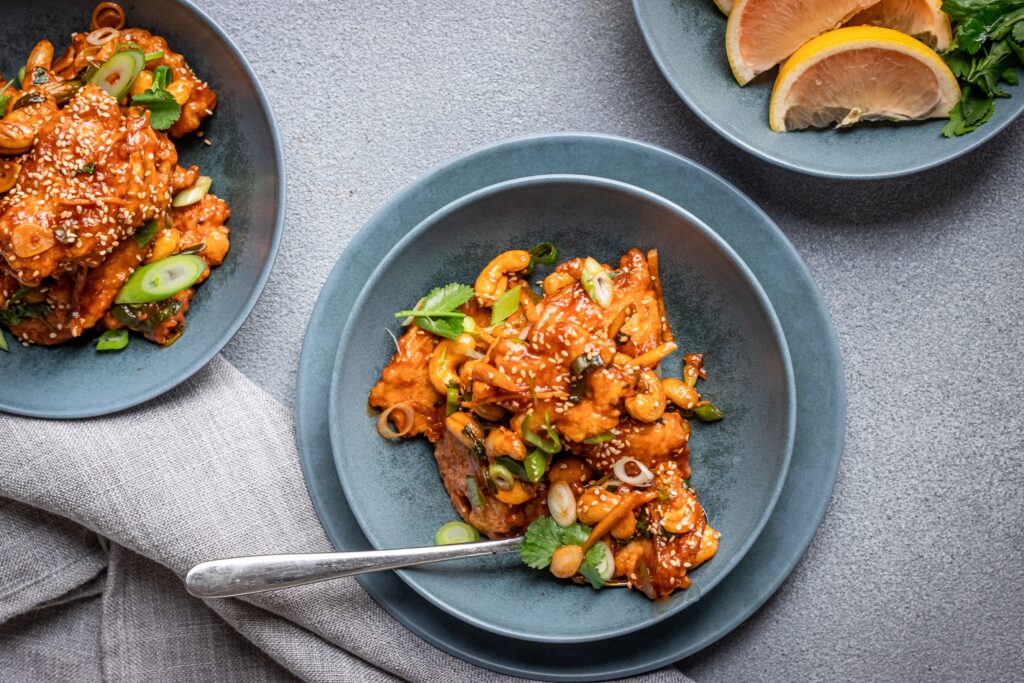 Sweet and Sour Chicken with Florida Grapefruit
Ingredients
3 Florida Grapefruit (juiced)
3 x 160g chicken breasts (skinless and boneless)
Salt and pepper
2 eggs
3 tbsp corn flour
200ml vegetable oil for cooking
3 garlic cloves (sliced)
1 thumb fresh ginger (chopped)
150g cashew nuts
60ml soy sauce
100ml ketchup
1 handful freshly chopped cilantro
4 spring onions (chopped)
2 tbsp sesame seeds
Preparation
1. Cut the chicken into 1cm strip and place in a bowl.
2. Pour the vegetable oil into a shallow large pan and heat to 180c.
3. Season the chicken with a little salt and pepper before adding the eggs followed by the corn flour.
4. Mix together to create a batter, coating the chicken.
5. Using a pair of tongs, lift the chicken out of the bowl and place in the hot oil. Do this in batches as you don't want to crowd the pan of oil.
6. When golden and crispy, carefully turn the chicken over and continue to cook.
7. When the chicken is golden all over, remove from the oil and place in a sieve over a bowl to drain any excess oil.
8. Continue until you have cooked all the chicken, then place on an oven tray in the oven at 170c for 10 minutes while you make the sauce.
9. Heat a wok or a large frying pan.
10. Add a splash of oil and cook the garlic and ginger for 2 minutes. Add the cashew nuts, followed by the soy, ketchup, and Florida Grapefruit juice.
11. Bring the sauce up to a boil, then turn down a little to simmer.
12. Add the cooked crispy chicken from the oven and stir into the sauce.
13. Finish with the chopped spring onions, coriander, and sesame seeds.