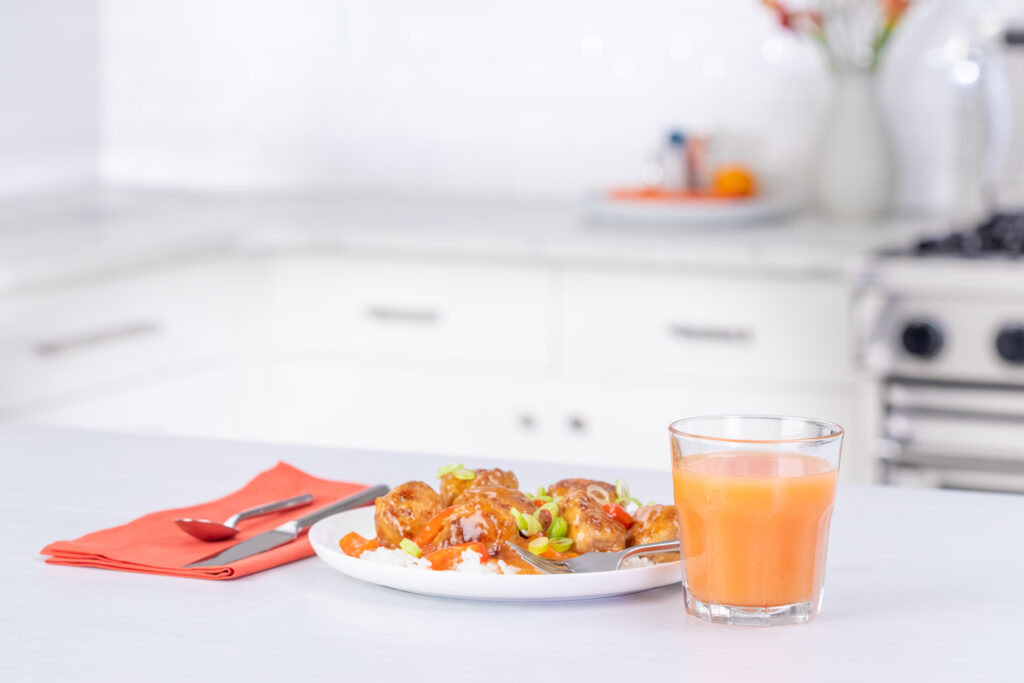 Sweet And Sour Chicken Meatballs With Grapefruit
Ingredients
2 garlic cloves, minced

1 egg

1 tablespoon soy sauce

1 tablespoon cornstarch

1 teaspoon ground ginger

1/2 teaspoon Chinese five-spice powder (optional)

450 g ground chicken, turkey or pork

1/2 medium onion, finely diced

1 tablespoon vegetable oil
For Sauce:
200 g granulated sugar

40 g cornstarch

500 ml Florida grapefruit juice

85 ml white vinegar

2 tablespoons soy sauce

2 teaspoons ground ginger

1 red pepper, seeded and cut into 1-centimetre pieces

2 Florida grapefruit
Preparation
Sweet And Sour Chicken Meatballs With Grapefruit
In large bowl, whisk together garlic, egg, soy sauce, cornstarch, ginger and five-spice powder (if using).Mix in ground meat and onion until combined.Divide into sixteen equal portions; form each into ball about 4 centimetres in diameter.Heat oil in large skillet over medium-high heat; brown meatballs all over.Drain off any fat; set aside.

Meanwhile, in large saucepan, whisk together sugar and cornstarch.Whisk in grapefruit juice, vinegar, soy sauce and ginger.Cook, stirring occasionally, over medium heat just until mixture begins to boil and thicken.Add meatballs to sauce.Reduce heat to low, cover and simmer for 35 minutes.Gently stir in red pepper.Cover and cook for 5 minutes.Meanwhile, cut rind and pith from grapefruit.Use a small, sharp knife to cut sections away from membrane.Stir gently into sauce; let heat through for 1 minute.
Tip:
For a buffet appetiser, make the meatballs half the size and serve in a chafing dish.
Tip:
This recipe is easily doubled, and can be made up to 2 days ahead.Reheat over medium-low heat for about 10 minutes, stirring occasionally.