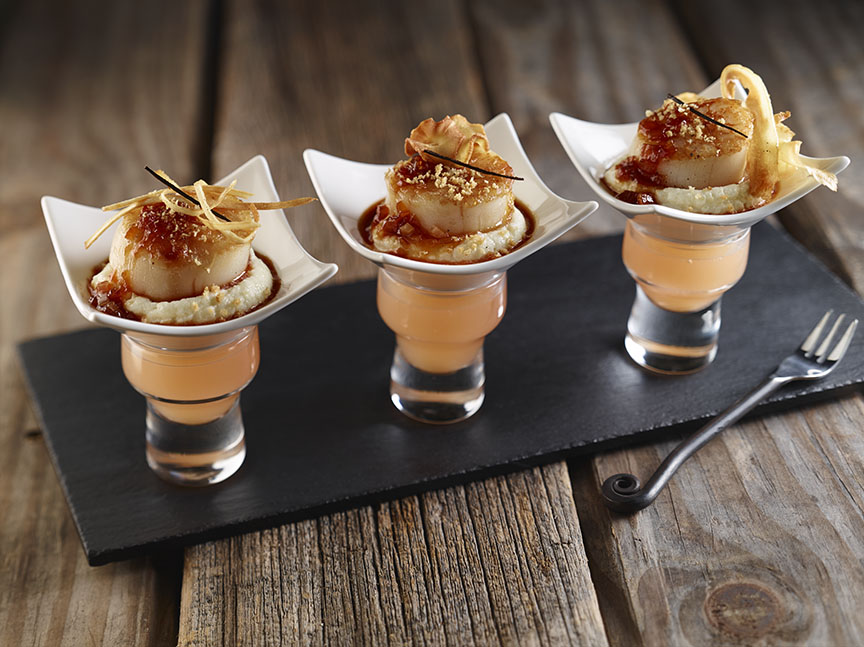 Scallops With Parsnip Purée And A Citrus Vanilla Crumble
Ingredients
250 ml Florida Grapefruit Juice

1 teaspoon Florida Grapefruit zest, shaved with microplane

1 tablespoon Shallots, minced

1 tablespoon Apple cider vinegar

2 medium Parsnips, peeled, diced

1 medium Idaho potato, peeled, diced

250 ml Milk

115 g Butter, unsalted

Salt

White pepper

1 each Vanilla bean, seeds removed

125 g Panko breadcrumbs

3 tablespoons Olive oil

16 pieces Scallops, U-10
Preparation
Scallops With Parsnip Purée And A Citrus Vanilla Crumble
In a 1-litre saucepan, combine the grapefruit juice and shallots; reduce to ~60 ml.Mix in apple cider vinegar a little at a time, tasting to make sure the sugar and vinegar are balanced.Keep warm.

In a 4-litre saucepot, place the parsnips, potatoes and milk.Cover with water 5 cm above the vegetables, and boil.

When the parsnips are fully cooked and fork tender, strain, rice, mix in the butter and season with salt and white pepper.Keep warm.

Combine the grapefruit zest, vanilla bean and panko breadcrumbs.Lay out on a baking tray covered with baking paper and bake in an oven preheated to 160 degrees Celsius until breadcrumbs are golden brown (approximately 15-18 minutes).

In a sauté pan over medium-high heat, add 3 tablespoons olive oil.When it begins to smoke, add the scallops.Sear one side until golden brown, then turn the scallops and spoon the grapefruit juice and shallot reduction over the top.Baste the scallops to desired doneness.

Equally portion the parsnip purée in the centre of each plate.Lay the scallops over the purée.Garnish each scallop with the vanilla, zest and panko crumble, and spoon the pan sauce around the scallops.

Garnish with crispy parsnip chips.