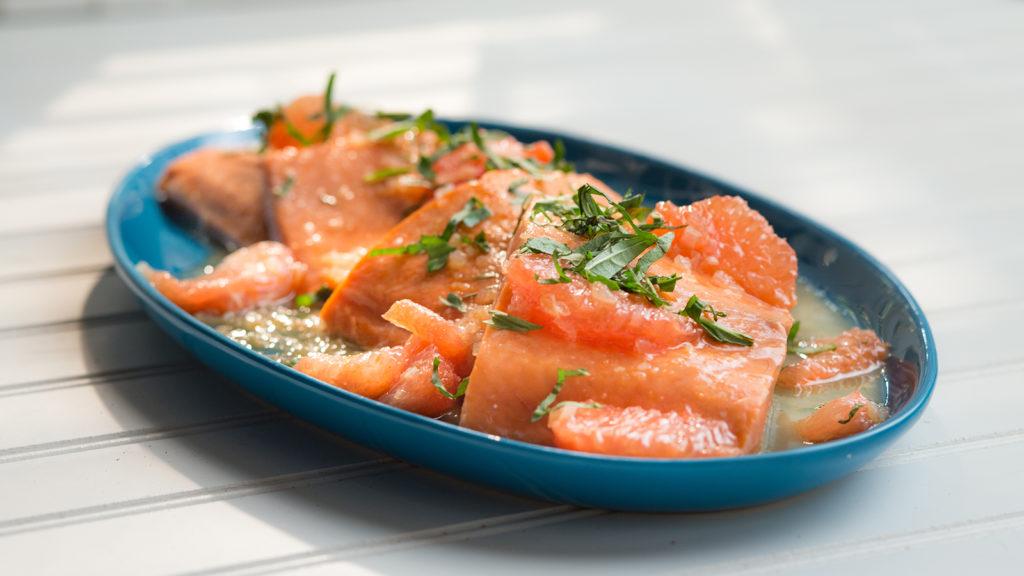 Roasted Salmon with Shallot Grapefruit Sauce
Ingredients
2 Florida Grapefruit, segmented

4 skinless salmon fillets, 140 to 170 g each

¼ tsp. salt

1 tbsp. minced shallot

1 tsp. freshly grated ginger

2-½ tsp. Honey

Pinch cayenne pepper

2 tsp. olive oil

2 tsp. lemon juice

2 tbsp. thinly sliced basil leaves
Preparation
Roasted Salmon with Shallot Grapefruit Sauce
Preheat oven to 180 degrees Celsius. Place salmon in a baking dish and season with ¼ tsp. salt.Roast salmon in oven until cooked through, about 15 minutes.While salmon is cooking, prepare sauce.Segment 1 Florida Grapefruit and set segments aside. Juice 1 Florida Grapefruit and set juice aside.
In medium skillet, heat oil over medium heat.Add shallot and sauté until softened, about 2 minutes.Within the skillet, add ginger, Florida Grapefruit Juice, honey and cayenne pepper and bring to a simmer.Cook until sauce is reduced by about half (approximately 10 minutes).Add lemon juice and season with salt, to taste.

Immediately prior to serving, add the Florida Grapefruit segments and basil leaves into the sauce.Place cooked salmon onto a serving dish and spoon sauce over salmon before serving.