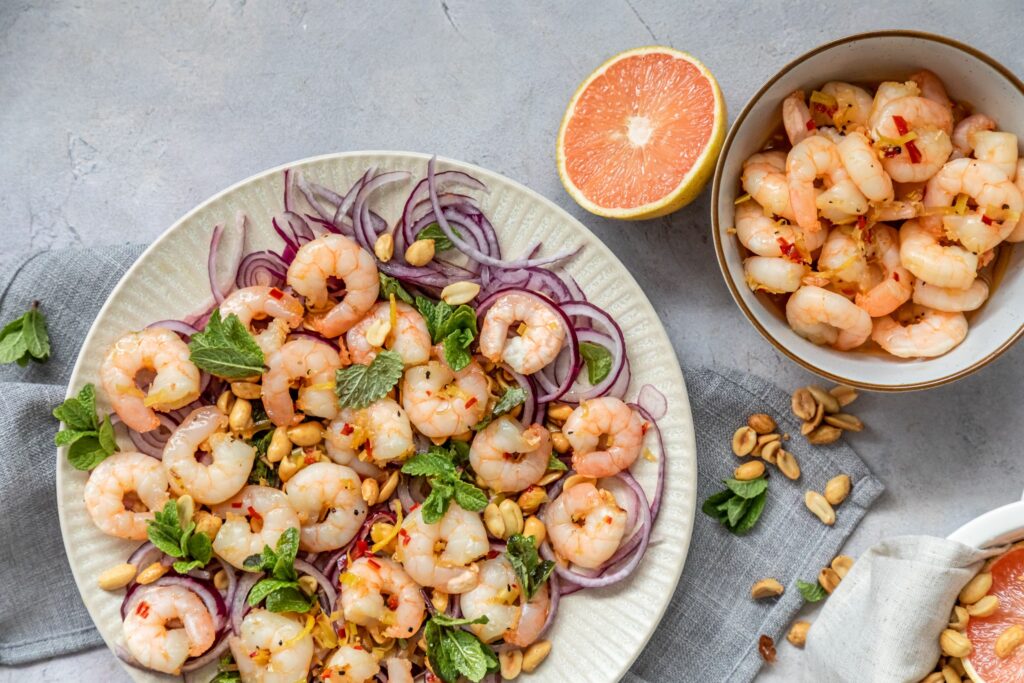 Prawns Glazed in Florida Grapefruit, Chili, and Lemongrass
Inspiration from Thai cuisine, enjoy flavours of chili, lemongrass and peanuts in thus scrumptious prawn dish.
Ingredients
3 Florida Grapefruit
2 red onions
80g salted peanuts
1 handful fresh mint
2 tbsp olive oil
1 red chili
2 lemongrass
2 tbsp vegetable oil
100ml soft brown sugar
350g large prawns (shells and tails removed)
Preparation
Slice the red onions as thinly as possible; then, scatter onto a serving plate with the juice of 1 Florida Grapefruit.
2. Sprinkle the peanuts and fresh mint over the onions along with a drizzle of olive oil; put to one side while you cook the prawns.
3. Chop the red chilli and lemongrass before adding to a pre-heated frying pan with a splash of vegetable oil.
4. Cook the spices for 2 minutes to bring the flavours together; then, add in the sugar and juice of the remaining Florida Grapefruit.
5. Boil the mix together until the sugar dissolves and creates a syrup.
6. Add the prawns and cook for a further 3-4 minutes or until the prawns turn pink.
7. When cooked, spoon the shellfish and the sauce over the top of the red onion and peanut salad.