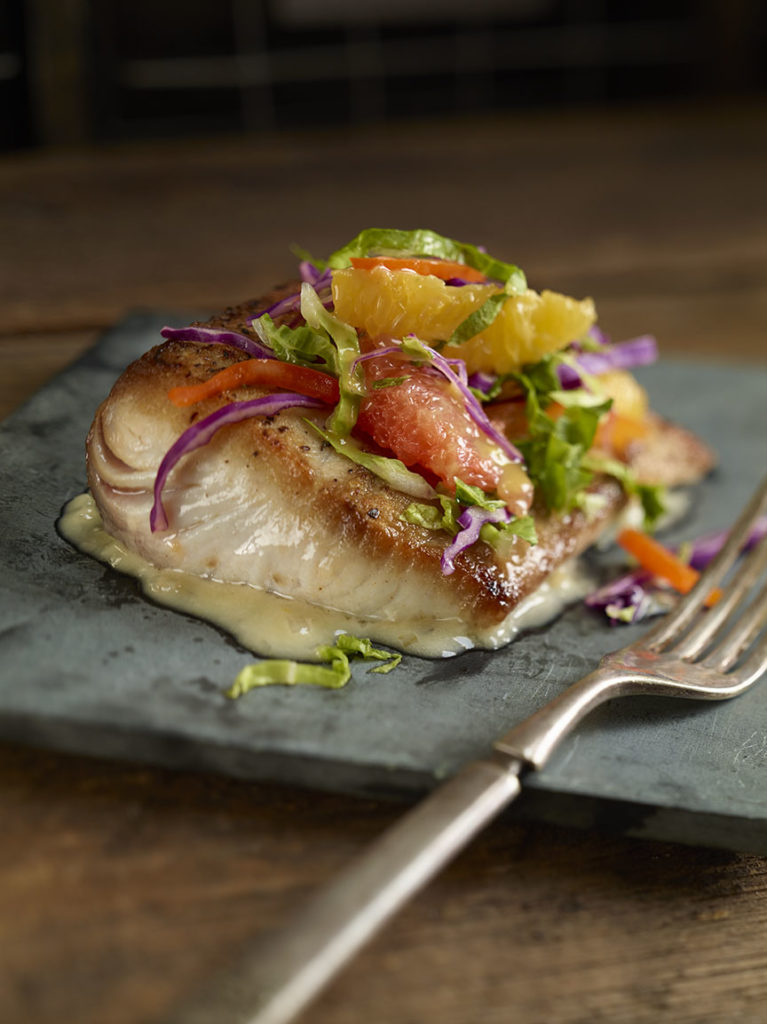 Mahi-Mahi Recipe With Charred Orange Citrus Coleslaw
Ingredients
250 ml Florida Orange Juice

8 each Florida Oranges, sliced in half

3 teaspoons Olive oil

25 g Shallots, minced

125 ml White wine

125 ml Double cream

110 g Butter, unsalted, room temperature

4 each Mahi-mahi, cut into 170 g pieces
Coleslaw:
200 g Florida Oranges, segmented

100 g Florida Grapefruits, segmented

50 g Red cabbage, thinly shaved

50 g Napa cabbage, thinly shaved

175 g Orange bell pepper, thin strips

Salt

Pepper
Preparation
Mahi-Mahi Recipe With Charred Orange Citrus Coleslaw
Using a grill pan over high heat, char the oranges that have been cut in half.Once charred, remove and set aside.

In a 1-litre saucepan, reduce the orange juice to 60 ml.Allow to cool.

In a separate 1-litre saucepan, add 1 teaspoon olive oil and minced shallots.Cook until translucent (approximately 1–2 minutes).Add the white wine and reduce until almost dry.Add the double cream and reduce by half.Squeeze 4 of the charred oranges into the double cream and reduce for another 2 minutes.Whisk in the butter and set aside over a warm water bath.

In a stainless steel bowl, combine the cooled reduced orange juice with the slaw ingredients.Season with 1/4 teaspoon salt, mix and keep cool.
In a sauté pan over medium-high heat, add 2 teaspoons olive oil; allow the oil to come up to its smoke point.Season the mahi-mahi with salt and pepper; sear flesh-side-down for 1 minute.Turn the fish, reduce the heat and cook until the fish is fully cooked (4–5 minutes).Place the fish on the plate.Equally portion the citrus slaw over the top.Spoon 2 tablespoons beurre blanc around fish and garnish with a charred orange.