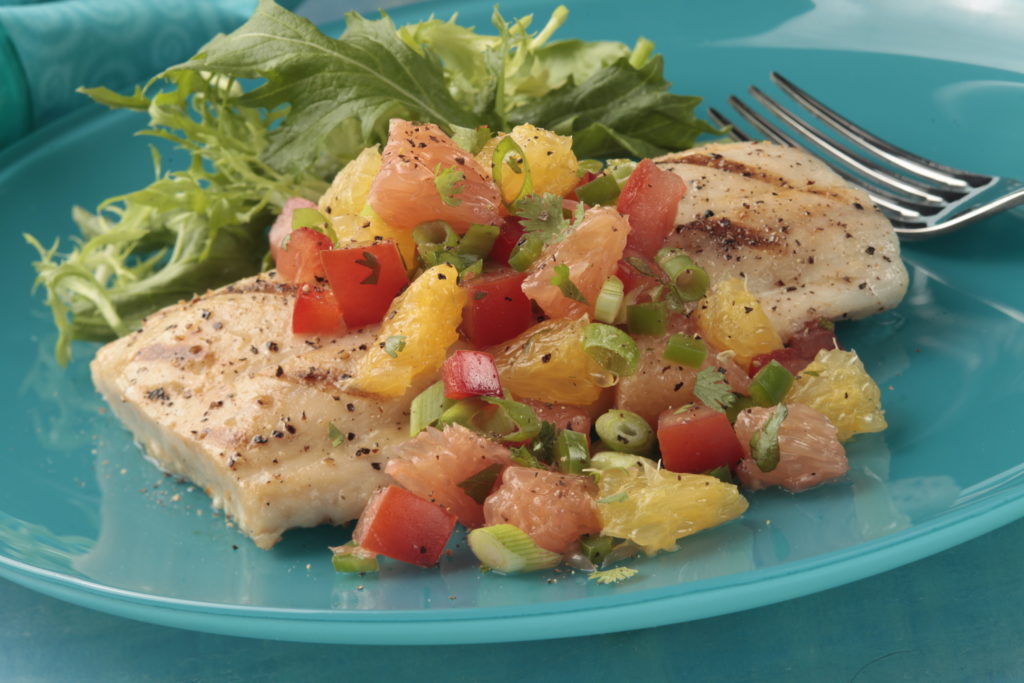 Grilled Mahi Mahi With Fresh Grapefruit Salsa
Ingredients
1 Florida grapefruit, peeled, sectioned, and diced

1 Florida orange, peeled, sectioned, and diced

3 green onions, thinly sliced

1 large tomato, diced

1 red bell pepper, diced

1 to 2 jalapeños, minced

10 g chopped coriander

1 garlic clove, minced

4 mahi mahi fillets

Salt and pepper, to taste
Preparation
Grilled Mahi Mahi With Fresh Grapefruit Salsa
Step 1
Combine grapefruit, orange, onions, tomato, bell pepper, jalapeños, coriander and garlic in bowl; stir to combine.Cover and refrigerate salsa until ready to use.
Step 2
Season mahi mahi with salt and pepper to taste.Heat a grill or grill pan to medium-high heat.
Step 3
Grill mahi mahi for 5-6 minutes, turning once after 3 minutes; do not overcook the fish.Place fish on serving plate and top with Fresh Grapefruit Salsa.
Nutrition Facts
Amount per serving
Calories
241
% Daily Value*
*The % Daily Value tells you how much a nutrient in a serving of food contributes to a daily diet.2000 calories a day is used for general nutrition advice.