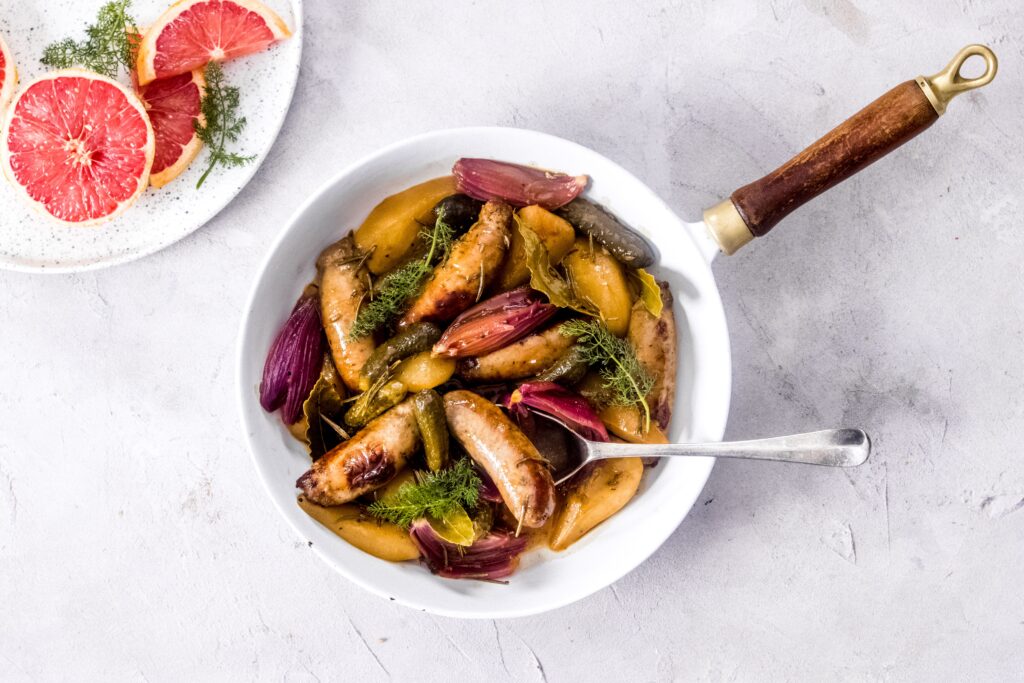 Florida Grapefruit Marmalade with Sausages and Pear
Try this savoury dish with the citrusy topping of Florida Grapefruit Marmelade!
Ingredients
1 Florida Grapefruit
8 sausages (flavour of choice)
1 tbsp olive oil
3 red onions (peeled and cut into wedges)
3 pears (peeled, core removed, and cut into quarters)
1 tbsp fresh rosemary (chopped)
3 fresh bay leaves or 1 dried
Salt and pepper
1 tbsp fennel seeds
1/2 tsp butter
500 mL dry cider
3 tbsp soy sauce
1 tbsp grapefruit marmalade
Preparation
Cook the sausages in a large frying pan with a splash of olive oil.
Once the sausages are turning golden brown, add the onions and pears.
Sprinkle in the rosemary and bay leaves; then, season with a little salt and pepper.
Scatter the fennel seeds into the pan and add the butter.
Continue to cook for a few minutes before pouring in the cider.
Boil the cider and reduce by half.
Add the soy sauce for seasoning and finish with the grapefruit marmalade and a good squeeze juice from Florida Grapefruit.