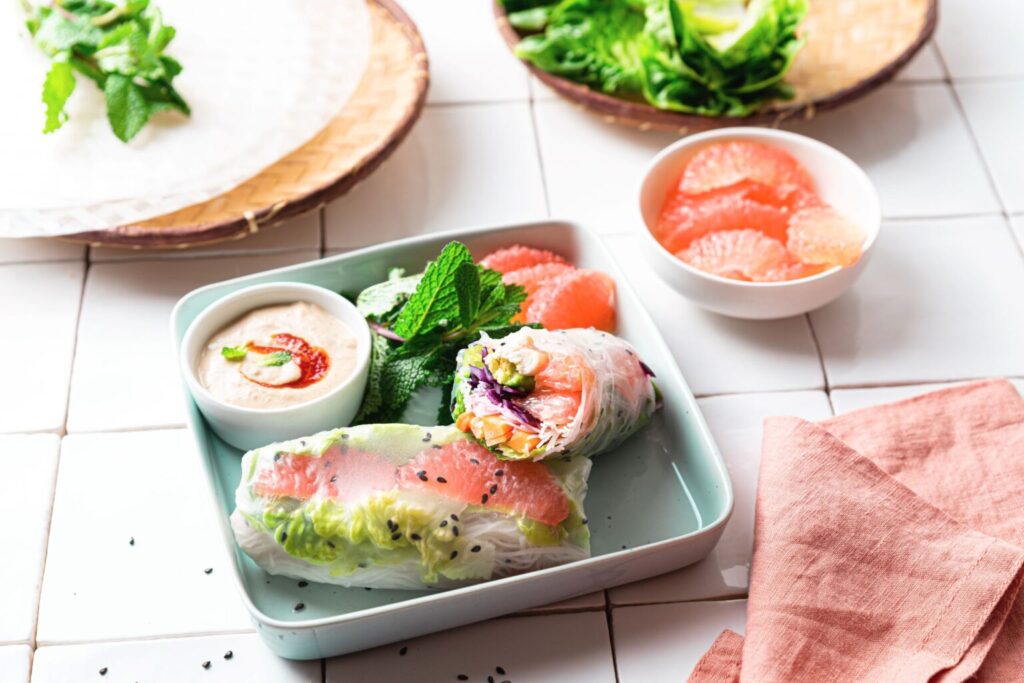 Florida Grapefruit and Chicken Spring Rolls
Fresh spring rolls are an easy lunch or snack idea. Try these delicious and easy Florida Grapefruit and Chicken Spring Rolls!
Spring Roll Ingredients
2 Florida Grapefruits
2 small chicken fillets
2 carrots
2 avocados
2 little gem lettuce heads
1/4 red cabbage
1 bunch of cilantro
1 bunch of mint
60 g of rice vermicelli noodles
12 pieces of rice paper
Sesame seeds (for garnish, optional)
Sauce Ingredients
1 Florida Grapefruit juiced
6 tablespoons of peanut butter (smooth)
1 tablespoon of brown or muscovado sugar
1 tablespoon of soy sauce
2 garlic cloves
1 good drizzle of Sriracha hot sauce (to adjust according to your taste)
1 teaspoon of ground ginger
Preparation
| Prep Time | Cook Time | Total Time |
| --- | --- | --- |
| 45 minutes | 15 minutes | 1 hour |
Prep the veggies and chicken
Preheat the oven to 180 °C/ 356 °F.
Prep veggies: Peel and cut the quarter head of cabbage into very thin strips. Remove pit and skin of the avocado and cut into lengthwise sticks. Wash and peel carrots, julienne carrots. Wash and pat dry the gem lettuce leaves, wash and chop the cilantro and mint.
Season with salt and place the chicken fillets in a pan and into the oven for 15-20 minutes until cooked. Remove, let stand for 5 minutes and cut intro strips. Set aside for assembly.
Boil a pot of water. Soak the rice vermicelli in water for 2-3 minutes and then drain them. Set aside.
Meanwhile peel and cut the Florida Grapefruit into segments. Keep the Florida Grapefruit juice aside for the sauce.
Prep the rolls
Get a deep dish, fill it with lukewarm water. Place rice paper sheets into the dish and let sit until the paper is soft (don't wait to long or the paper will tear). Remove from water and then place it on a clean tea towel. Repeat process for 12 sheets.
Once the rice paper is on the tea towel, sprinkle with sesame seeds (optional) then place a little of each ingredient in the center of the sheet.
Wrap the bottom side first towards the center, then fold the two left and right sides to the center. Finish rolling by tightening to the top of the rice paper.
Prep the sauce
Peel and de-stem the garlic. Chop it up.
Combine all the ingredients in a blender. Blend until smooth.
Then serve the sauce in small containers, use for dipping!
Bon appétit!