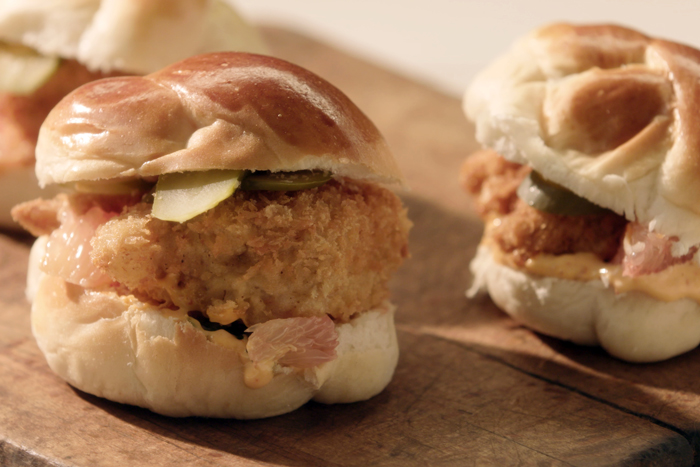 Ingredients
1 Florida Grapefruit, peeled, segmented and chopped

115 g grated daikon radish

1 carrot, peeled and grated

10 g coriander, chopped plus extra leaves for garnish

Salt and pepper to taste

Juice of half a lime
60 g flour 1 tbsp. cornstarch

2 tsp. garlic powder

1 tsp. onion powder

1/2 tsp. cayenne pepper

1 tsp. chili powder

60 ml soda water

1 egg
Additional Ingredients:
125 g panko breadcrumbs

8 medium raw tiger shrimp, washed and peeled

500 ml vegetable oil

2 dill pickles, sliced

3 tbsp. mayonnaise

2 tsp. garlic chili sauce

2 fresh sausage buns
Preparation
Spicy Citrus Po' Boy
In a medium-sized bowl, combine Florida Grapefruit slaw ingredients and season with salt and pepper to taste.Pour panko crumbs into a small bowl and set aside.In another small bowl, stir together mayonnaise and chili sauce and set aside. In a small saucepan, heat oil to 190° C.

In a medium-sized bowl, whisk together batter ingredients until combined.Working in batches, dip shrimp in batter then panko crumbs; fry shrimp until golden brown (approximately 4-6 minutes).Remove shrimp and set on a plate with paper towel.Spread the inside of each bun with chili mayo; top with Florida Grapefruit slaw, cooked shrimp and pickles.Garnish with coriander leaves and serve with reserved lime wedges.