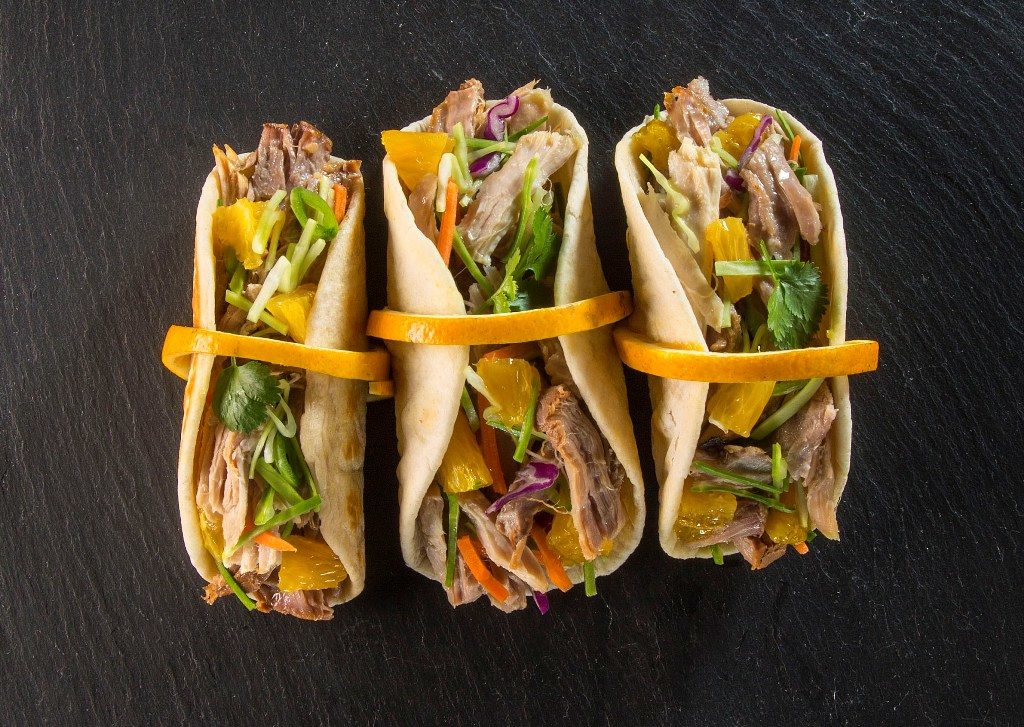 Florida Citrus Cuban Tacos
Ingredients
For Pork:
500 ml Florida Orange Juice

250 ml Florida Grapefruit Juice

2 tbsp. Florida Orange Zest

250 ml soy sauce

125 ml triple sec

50 g brown sugar

6 garlic cloves, coarsely chopped

4 stalks fresh oregano, coarsely chopped

2 kg boneless pork shoulder
For Sour Orange Sauce:
185 ml Florida Orange Juice

60 ml lime juice

20 g fresh coriander, minced

1 tsp. sugar
For Coleslaw:
225 g Florida Orange Segments, finely chopped

250 g shredded coleslaw mix

10 g coriander, finely chopped

Salt, to taste

Pepper, to taste
For Tacos:
Florida Orange Peel Strips, if desired

18 (10-cm) flour tortillas

Coriander sprigs, if desired
Preparation
Florida Citrus Cuban Tacos
Prepare Pork:
Combine all ingredients except pork shoulder in large mixing bowl.Remove 85 ml Florida Orange Juice mixture for sauce; refrigerate in covered container and reserve.Place pork shoulder in mixing bowl with Florida Orange Juice mixture, pushing down into liquid so it is submerged.Cover tightly with cling film; refrigerate for 2 days.Preheat oven to 200° C. Remove pork shoulder from marinade; discard marinade.Place pork in roasting pan.Cover with aluminium foil.Cook in oven for 45 minutes, uncover and cook for 10 more minutes until internal temperature reaches 63° C. Cool for 20 minutes.
Prepare Sour Orange Sauce:
Combine reserved refrigerated marinade mixture with remaining ingredients; stir to combine.Shred pork and toss with Sour Orange Sauce.Use 550 g prepared pork to assemble tacos; reserve remaining pork for more tacos.
Prepare Coleslaw:
Combine coleslaw mix, Florida Orange Segments and coriander in mixing bowl; season with salt and pepper to taste and reserve.Heat grill or grill pan to medium-high heat.Grill tortillas for 20 seconds to heat through; keep warm.To assemble tacos, divide shredded pork among tortillas.Top with coleslaw mixture.Fold up tortillas; garnish with orange peel and coriander sprigs, if desired.Serve immediately.