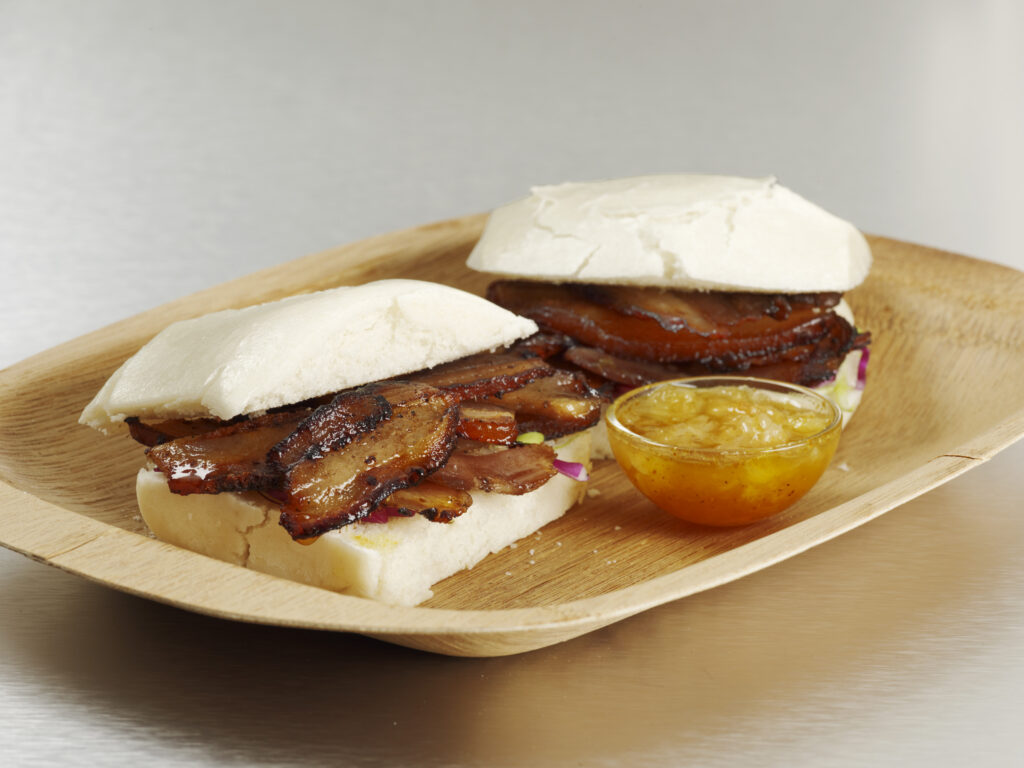 Ingredients
1.5 kg pork belly, skin removed

12 sandwich or slicer buns, steamed

200 g red cabbage, shredded
For Marinade:

200 ml water

125 ml Florida orange juice

125 ml soy sauce

25 g minced shallot

60 ml hoisin sauce*

3 tablespoons minced lemongrass*

2 tablespoons lime juice

2 tablespoons honey

2 tablespoons sugar

1 tablespoon Chinese five-spice powder*

1 tablespoon minced garlic

1 tablespoon minced ginger

1 tablespoon fish sauce*

1-1/2 teaspoons Florida orange zest

1 teaspoon sriracha sauce*
For Ginger Grapefruit Chutney:
100 g sugar

125 ml rice vinegar

550 g Florida grapefruit segments

1 tablespoon minced ginger

1 teaspoon curry powder
Preparation
BBQ Pork Belly Sliders
Prepare Marinade: combine all ingredients in bowl; mix thoroughly to combine.Place pork belly in non-metallic baking pan; pour marinade over pork belly; cover and refrigerate.Marinate for at least 3 hours or preferably overnight.
Bake pork belly with marinade in covered baking pan at 135 degrees Celsius for 2 to 2-1/2 hours until pork is fork tender.Remove from oven; cool slightly.Place a flat plate or dish on top of pork belly; weigh down with heavy object and refrigerate overnight.

Prepare Ginger Grapefruit Chutney: combine sugar and vinegar in medium saucepan; simmer over medium heat until reduced by half.Add grapefruit segments, ginger and curry powder; continue simmering until liquid evaporates.Remove from heat; reserve.
Remove pork belly from marinade; reserve marinade.Slice pork belly into 2-centimetre thick slices and cut into 8-centimetre lengths.

Heat sauté pan over medium-high heat.Sauté sliced pork belly on both sides until brown and crisp.Add some reserved marinade to sauté pan to glaze pork belly.
While pork is cooking, warm buns in steamer.Serve pork belly on steamed buns; top with red cabbage and Ginger Grapefruit Chutney.

*Available at Asian market or speciality store.